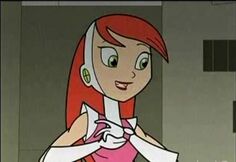 Atomic Betty Redux was a planned Sequel Series to Atomic Betty. Atomic Cartoons made the announcement via their updated website in June 2010. The show was expected to come out in 2010, but all references and mentions were removed.
Few Details are known , but it was been revealed that Betty will be "all grown up", which could mean she'll either be a teenager or an adult. She first appeared in the episode The Future Is Now!. It was the last episode before the original series "Atomic Betty" ended on January 29, 2008.
However, all references to this proposed series were removed from Atomic Cartoons' official website, and any news hasn't been heard from Since 2010. 
After 9 years in Development Hell, in Early 2019 the project was revealed to have been cancelled.
Community content is available under
CC-BY-SA
unless otherwise noted.