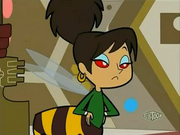 Queen Penelobee (Catherine Disher) is a hybrid clone of Penelope, created from a mix of alien bee and human DNA. After the death of their previous queen, the alien bee people of Droneopolis decided to choose a new queen, scouring the galaxy to find the "most despicable female" in the cosmos, observing candidates such as Iciclia and Nuclea; in the end, they had concluded that this person was none other then Penelope. Penelope was abducted by the Bee People, but was later rescued by Betty and her crew; all the while, Penelope had thought the incident was only a dream. However, the bees of Droneopolis had managed to retain a strand of Penelope's hair. DNA was used from the hair, along with some of their own DNA to create a hybrid clone of Penelope to serve as their new queen.
Queen Penelobee is similar to Penelope in most aspects, but is unfamiliar with Betty (ironic as Betty and Penelope interact regularly) and has romantic feelings for Sparky, after he had posed as a "king bee" in "Bee Movie".
Community content is available under
CC-BY-SA
unless otherwise noted.