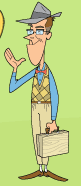 Quincy Barrett (Patrick McKenna) is the father of Betty Barrett and spouse to Tanya Barrett. He resembles a slightly absent-minded, stereotypical 1950's salesman who is usually busy with whatever new gadget he is trying to sell, but he remains a devoted father when he's around. Unlike his wife, he lets Betty be herself and encourages her interest in space, comics, and movies; however, more like his wife, he tries to get Betty to do some things she isn't interested in. He and Tanya are unaware about Betty being a Galactic Guardian in order to protect them and because they may never understand.
Trivia
Patrick McKenna is better known for playing Harold Green on The Red Green Show. Both Quincy and Harold share similarities, including similar glasses.
Community content is available under
CC-BY-SA
unless otherwise noted.